Commercial HVAC Service In Houston, Texas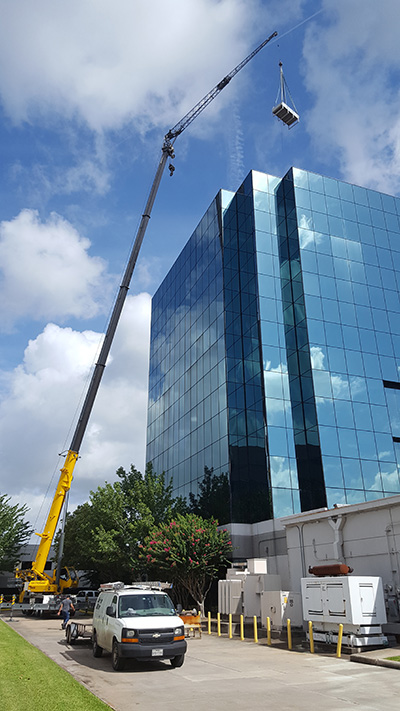 Arin-Air is your local commercial and industrial HVAC specialist here in the Houston, Texas area. We have years of experience working with commercial properties with all of their heating, ventilation and air conditioning service needs. Unlike some other area HVAC service providers, we have the staff, knowledge and tools necessary to tackle the largest and most complicated commercial HVAC installations, maintenance and repairs. If you're a business owner here in the Houston area and need commercial heating or cooling service, ventilation or IAQ service get in touch right away. We're available 24/7 for all emergency commercial HVAC services.
We're Here To Help With Your Mechanical Systems
At Arin-Air, we deliver installation and maintenance for a variety of commercial mechanical systems:
Commercial gas furnaces
Rooftop gas packs and packaged HVAC systems
Split commercial AC and heat pump systems from 3 – 30 ton
Computer room air conditioning system
Radiant tube heaters
Gas fired and hydronic unit heaters
Make-up air systems and ventilation systems
Cooling towers and closed loop heat pumps
Variable refrigerant flow (VRF) systems
Energy management controls
We specialize in the following commercial installations:
* Packaged Rooftop Equipment: Gas or electric rooftop heating and cooling units with makeup and systems and economizers.
Split Systems and Ducted HVAC: Split systems are popular here in Central Texas for organizations and commercial properties. Split systems provide a reliable and efficient way to heat and cool your business. At Arin-Air we can either help you with your split system installation or replacement, provide the peace-of-mind of a complete preventative maintenance service plan, or perform emergency repairs, 24 / 7 when you need it so you're never stuck in a jam.
Controls and Building Automation: Commercial HVAC systems are increasingly networked to improve efficiency and security of operation. Whether monitoring and integrating from offsite or utilizing a central control panel on site, building automation is a fantastic choice for today's commercial applications. Arin-Air has the experience required to help with your HVAC system control needs.
Emergency Commercial HVAC Service 24 / 7
We understand that many of our commercial clients need repairs and maintenance services performed on their schedule. Therefore, we offer emergency service around the clock 7 days a week in order to meet your needs and your schedule.
Our commercial HVAC service division offers preventative maintenance, repairs, upgrades, retrofits and quick fixes of your HVAC units. Our experience with the commercial units means we can be relied upon to handle just about whatever your property needs.
Commercial HVAC Maintenance
We have comprehensive Maintenance Contracts for most commercial systems. Planned maintenance contracts improve systems effectiveness, lower downtime, and selling money over time by improving equipment effectiveness. The prices and terms of your maintenance agreement are based on the type and number of systems in your home or business, the age of your equipment, and its condition prior to the start of a maintenance plan.
Financing For Your Project
At Arin-Air we know it's important to stick to your budget, that's why we accept all major credit cards for our services. We also offer financing options to help keep your costs down with your new installation or service.